PA Senate Launches New Revenue Proposal, Heavier On Taxes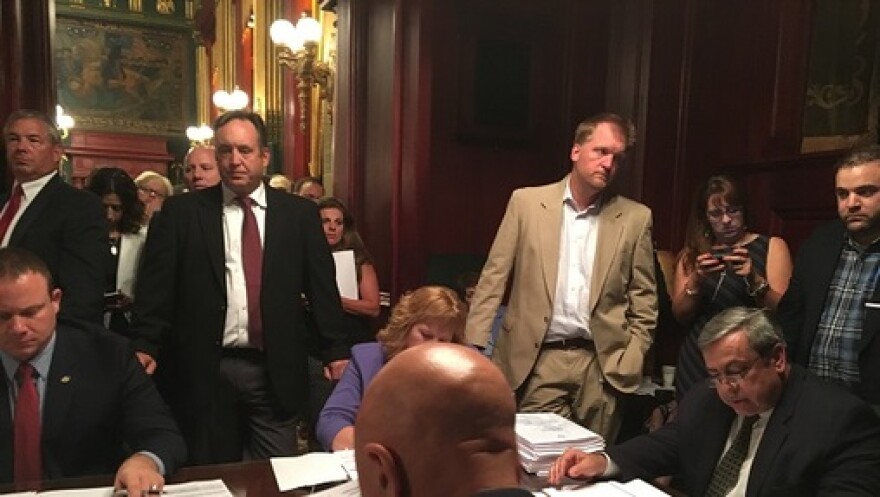 HARRISBURG (WSKG) -- In hopes of finally finishing the budget that was due at the end of June, the GOP-led state Senate is pushing a revenue package that departs significantly from previous tax-averse attempts.
Republicans have repeatedly clashed with Governor Tom Wolf over the amount of recurring dollars necessary to fill a $2 billion hole in the $32 billion budget.
This new proposal boosts revenue to a level a Wolf spokesman calls "responsible," and it does so, in part, by raising taxes.
The biggest component is a gross receipts tax that reinstates a 5.7 percent gas levy that was previously phased out, and makes smaller increases to electricity and telecommunications taxes. All together, gross receipts earnings are projected to net the state $405 million.
Also included in the plan is a controversial severance tax on natural gas drilling that Wolf has long supported, which would earn an estimated $100 million. Senate Majority Leader Jake Corman said the tax was included in exchange for changes to Department of Environmental Protection regulations--specifically, shortening the state's time-frame for reviewing permits
"Obviously they're not thrilled--they think they pay enough in taxes, and that probably is accurate." Corman said of natural gas drillers. "But at least in this component that we're putting together there are some things to help the industry as well."
Another $43.5 million in revenue would come from expanding the state's powers to collect taxes on online purchases--something several other states have attempted with varying degrees of success.
The proposal would fill most of the rest of the budget gap by borrowing $1.3 billion dollars against the state Tobacco Settlement Fund. It also assumes $200 million in revenue from a gaming expansion that hasn't passed yet, and probably won't this week.
Senate GOP Leader Jake Corman acknowledged it's a tough bill to vote for, but told members the state's out of options.
"If we're going to maintain our responsibilities to educate our children, to provide for higher education, to provide for human services, we're in a position where we have to get more revenue to make that happen," he said. "We could sit at home and ignore this, and put it all on Governor Wolf and let him come up with $2.2 billion worth of cuts. But here in the Senate, we believe we have a job to do."
The proposal still has to pass the full Senate, and then survive the House. There, it will likely face resistance from conservative representatives who favored a tax-free plan.