PA's State Budget Could Be Finished Today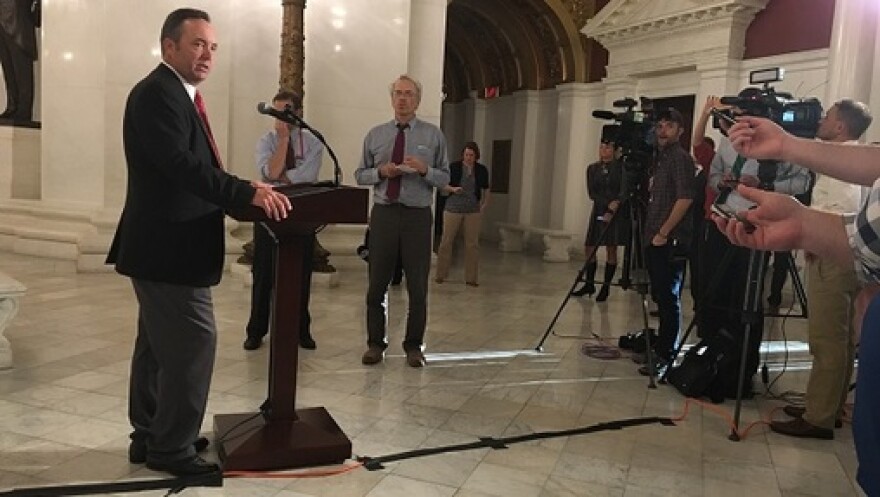 HARRISBURG (WSKG) -- After almost four months of false starts and negotiation breakdowns, the state legislature has passed most of a plan to fund Pennsylvania's budget--almost entirely through borrowing and internal transfers.
Lawmakers say the end is finally in sight.
However, the House still has to pass a gambling expansion bill, which they'll resume debating at 8 a.m. on Thursday morning, after running out the clock late Wednesday night.
The final proposed funding package is essentially the same as one the House passed last week. And Senate GOP Leader Jake Corman said that's with good reason.
"It's not what we in the Senate Republican Caucus would have preferred, but it's something the House can pass," he said. "As I've said here many times, 26, 102 and one [votes] is what matters."
Lawmakers said the gaming expansion has been the toughest part of the revenue package to negotiate; the measure has been under debate in various forms for several years.
The current version of the bill legalizes gambling online and in airports, and will allow up to 10 new miniature casinos. It also legalizes video gaming terminals, or VGTs, but only in truck stops--a compromise between the pro-VGT House and opponents in the Senate.
Municipalities are free to prohibit the mini casinos, and counties can opt out of VGTs.
Over several hours of floor debate, lawmakers protested that the long, complicated bill had been drafted and passed through committee on excessively short notice. Several attempted to cut debate short or re-refer the bill to committee for further consideration and hearings.
House Republican Leader Dave Reed acknowledged that no one is quite happy with it, but he said it's necessary.
"I've traditionally been against expanded gaming, but the reality of the situation is, when you're looking at billions of dollars of tax increases, or expanding something that's already going on in Pennsylvania, I think that's key," he said.
The House budget initially earmarked $265 million for gaming revenue, but this version of the expansion is projected to make less--around $200 million for this fiscal year, and $90 to $100 million in subsequent years.
Reed said he thinks that's a little conservative.
"A lot will depend on how quickly things ramp up," he said. "We think the expectations could be a little bit better...but time will tell."
Gaming is a relatively small part of the overall revenue plan. The main component is $1.5 billion in borrowing against the state's Tobacco Settlement Fund, to be paid back with interest for at least 20 years. Internal fund transfers and minor tax increases would fill in a few hundred million more dollars.
Corman said if lawmakers learn anything from the extended budget process, it should be that it's a mistake to spend without revenue to back it up, as the state did this year.
"I think the thought process behind it was understandable, but clearly with the fact that we're here four months later, it was a mistake," he said. "I don't think we'll relive that mistake."
"July first needs to mean something again," Corman added. "I think the fact that there's no pain for being late just allows it to linger on and on and on."
The House has also passed appropriations to fund state related universities--which had hung in limbo throughout the impasse.
Governor Tom Wolf hasn't indicated whether he'll sign the plan. A spokesman said he plans to review it over the next several days.